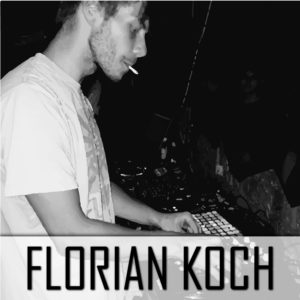 Florian Koch




Live Act, Remixer, Producer


Techno, House, Experimental


Innsbruck (Austria) / Leipzig (Germany)

Releases:
[TALIS 009] Florian Koch – Haumea (LP)
[TALIS 008] Florian Koch – Haumea, Pt. 2 (EP)
[TALIS 007] Florian Koch – Haumea, Pt. 1 (EP)
[TALIS 003] Florian Koch – Malika (EP)

Biografie:
[deutsch] Florian Koch erblickte 1989 in Thüringen das Licht der Welt. Schon immer fasziniert von dem Kosmos der Klänge, begann er im Alter von zwölf Jahren Keyboardunterricht zu nehmen. Darauf folgte dann ebenfalls das Erlernen eines weiteren Instrumentes – der Gitarre – die ihn bis heute begleitet. Durch die Musiksammlung seines Bruders entwickelte er bereits im jungen Alter einen ausgewählten Musikgeschmack. Von der ersten Plastikman-CD, über die bis dahin noch nervig erscheinenden DJ-Rush-Sets seines Mitbewohners, wuchs in ihm eine echte Techno-Liebe. Daraus entstand der Wunsch eigene Sounds raus in die Welt zu tragen. Die erste DAW war FL Studio von Image Line und die erste physische Produktionsmaschine war eine Electribe von KORG. Seit 2007 jedoch entstehen seine melodisch technoiden Werke vorwiegend mit Live Studio von Ableton. Im Laufe der Jahre tauschte er sehr viel Zeit gegen Wissen ein und schaut stets, wie er selber sagt, auf ein neues Projekt wie auf ein leeres Blatt Papier. Es bieten sich einem unendlich viele Möglichkeiten, was sowohl Ansporn als auch Demut zugleich bedeutet. Es sind vor allem knackige Kick-Drums und getragene Melodien die in keinem seiner Tracks fehlen dürfen, komme was wolle. Durch seine Edit.-Version von "Barbara Thalheim – Abschied von den Eltern", wurden auch die Jungs von TALIS auf ihn aufmerksam. Die Weiterentwicklung seines Schaffens, durch zusätzliches analoges Equipment, wird auf allen Wegen zu euch gelangen. Stay tuned for Florian Koch!

[english] Florian Koch saw the light of day in 1989 in Thuringia. Always fascinated by the cosmos of sounds, he began taking keyboard lessons at the age of twelve. This was followed by the learning of another instrument – the guitar – that accompanies him to this day. Through his brother's music collection, he developed a selected musical taste at a young age. From the first Plastikman CD, over the hitherto still annoying DJ rush sets of his roommate, he grew into a real techno-love. The result was the desire to carry their own sounds out into the world. The first DAW was FL Studio from Image Line and the first physical production machine was an Electribe from KORG. Since 2007, however, his melodic technoid works have mainly been produced with Ableton's Live Studio. Over the years, he exchanged a lot of time for knowledge and always looks, as he says himself, on a new project like a blank sheet of paper. There are an infinite number of possibilities, which means both encouragement and humility at the same time. Above all, it is crisp kick drums and worn melodies that must not be missing in any of his tracks, come what may. Through his Edit.-version of "Barbara Thalheim – farewell to the parents", the boys of TALIS became aware of him. The further development of his work, with additional analogue equipment, will reach you in all ways. Stay tuned for Florian Koch!
---
booking assistent
Booking Form
booking@talis-music.com
+49 (0) 175 333 52 52
---